---
10 basic points about Johan Galtung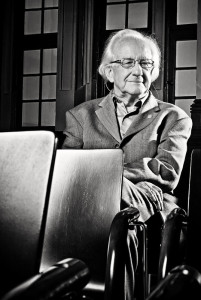 10 BASIC POINTS ABOUT PROF. Dr. mult. JOHAN V. GALTUNG
He founded the academic discipline of Peace Research in 1959.
He is a 2016 nominee for the Nobel Peace Prize.
He is a laureate of the Alternative Nobel Prize aka The Right Livelihood Award.
He coined the term Peacebuilding.
He has mediated in over 200 cases between individuals, nations, institutions & states.
His research led to the OSCE & its politics of deescalation between East & West.
He currently is the rector of Transend Peace University, an Online Peace University.
He teaches "Advanced Conflict Transformation" at the universities of Madrid & Sydney.
What is the best summary of his political philosophy?

It is TRANSDISCIPLINARY [Natural + Social Sciences].
It is TRANSLEVEL [Mega-Macro-Micro-Meso Analytical].
It is TRANSBORDER [Bringing Humanity Together Beyond States].

He has written 167 books on Peace Theory, Peace Research & Peace Politics.

His latest book is "ABOLISHING WAR" (2015).
His upcoming book is: "THE ART OF PEACE" (2016).