Below you can find details about our upcoming online courses.
Conflicts at the Micro Level: 12 Weeks E-Learning with Prof. Dr. Kees Van der Veer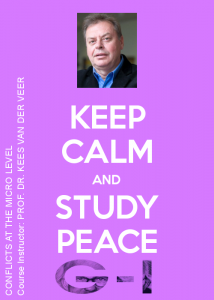 12 Weeks E-Learning: September 3rd 2018 – November 25th 2018
Language: English and German
Course Description:
This course deals with interpersonal conflicts, causes, coping strategies & conflict resolution from a social psychological point of view. Participants acquire conceptual tools for reading & handling conflicts in organizations & institutions, intimate relationships, marriages & other micro-level contexts.
Objectives in short:
1. Acquiring insights into the diverse potential causes of interpersonal conflicts.
2. Acquiring insights in conflicts in organizations, companies and assessing the contributing factors.
3. Analyzing conflicts systematically and being able to present possible solutions.
Click on "Details" below for specifics on the course with Prof. Dr. Kees Van der Veer