F.U.S.E – Fall of the U.S. Empire – And Then What?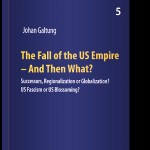 Public Group
Active 3 years, 9 months ago
If you've read it, look no further. Here is where to share your opinion about it and exchange with other readers of the book. This group is dedicated to discussing the book by the same title wirtten by Prof. Galtung. Here is a Video with some substance to the content: http://bit.ly/8ZojJa
You are viewing all docs.