---
Resolving International Conflicts Professionally – Galtung-Institut Summer Academy 2017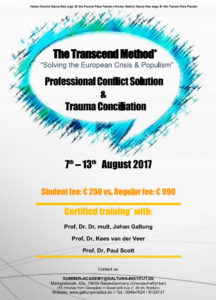 The Summer Academy of the Galtung-Institut for Peace Theory and Peace (G-ISA 2017) will take place from 7 to 13 August 2017 (7 days) in Grenzach-Wyhlen located only 10 minutes away from the city centre of Basel in Switzerland. The Galtung-Institut is located in the tri-country region between Germany, Switzerland and France. The course will be conducted by Prof. Johan Galtung (Professor & Founder of Academic Peace Studies and President of the G-I), Prof. Kees van der Veer (Psychologist and Director of the Cultural Studies Foundation in Amsterdam) and Prof. Paul Scott (Political Science and Historian for European and Asian History). Beyond conflict dynamics at the international level, the relevance of intergroup and interpersonal conflict dynamic will also be discussed with a regard to their possible solutions.
Taken together, the summer academy courses taught by these outstanding professors & seasoned practitioners offers a unique opportunity for participants to acquire
a professional and interdisciplinary perspective on the potentials of peacebuilding in the 21st century,
insights from mediating at the highest levels of international relations as well as
insights into techniques of solution-indicative conflict analysis and reconciliation at the micro- and meso-levels of society.
Click here to enrol – The Summer Academy takes place at the G-I's offices  located in  Markgrafenstraße 42a  79639 Grenzach-Wyhlen / Germany
The focus of the 1-week event is:
techniques of conflict transformation and applied peace development
Diagnosis, prognosis and solutions to overcoming current European-Russian polarization
Democratic processing options of the right-wing populism
Psychological insights and insights for the treatment and treatment of conflict dynamics.
Nota Bene
(A) The Galtung-Institut is particularly interested in supporting students. Registered students can enrol at favorable fees: € 250 instead of € 990.
(B) OPTIONAL: In the case of a minimum of 8 interested participants, Naakow Grant-Hayford (Director of the G-I) will provide additional sessions from August 14th to August 17th to assist interested participants in deepening and acquiring a practice indicative understanding of the "Solution Indicative Conflict Transformation" approach which will be presented by Prof. Galtung during the 1 week summer-academy. Please indicate your interest in this additional course at registration.
For any and all questions [i.e: for accommodation details and other forms of support], please contact us under: summer-academy@galtung-institut.de