Naakow Grant-Hayford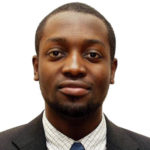 @hayford
Active 1 year ago
Base
Name

Naakow Grant-Hayford

Welcome to our community: How do you define PEACE?

Any societal pattern of interaction resulting from the emphatic and empathic dedication to direct, cultural and structural non-violence.

How did you find this community?

I conceptualized and constructed it with the help of Malvin Gattinger

Do you have any professional experience in the field of peace-research? peace-studies? peace-practice?

Trainer at the Galtung-Institut for
(a) Mediation & Conflict Transformation
(b) Solution-Indicative Conflict Analysis
(c) Geopolitical Case Studies
(d) Peace Journalism

Are you at all familiar with concepts of Nonviolence and Conflict Transformation?

See above.

What are your primary conceptual interests and concerns

Peace Theory & Peace Practice

Location(s)

Ghana, Germany, Switzerland

What is your main regional focus?

Planet Earth

Languages

Fante, German, English, French and: Some Italian.

CV

Co-Founder and currently Director of the Galtung-Institut.